Number One Inkjet Coupons
Saving on printer supplies like laser toners, replacement ink cartridges, ink refill kits, photo paper and more is easy with 1-Inkjet.com. Shop at the #1 Inkjet store and save on compatible printer ink for Epson, Canon, Lexmark, Apple, Hewlett Packard, Xerox, Dell, IBM, Brother and other manufacturers. With generic and remanufactured ink and laser cartridges that are compatible with your printer, the savings can be significant. See the chart below for potential coupon code promotions, promotional specials and discount promos for additional savings with Number One Inkjet.
#1 Inkjet Discount, Coupon or Promotion
Expires
We do not have any offers at this time.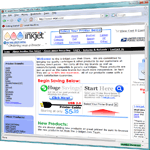 About #1 Inkjet
Number One Inkjet is determined to bring customers premium ink and other products at factory direct prices. They carry compatible generic cartridges and remanufactured cartridges as well as all of the top brands, from Canon, Apple, Compaq, Brother, HP, and Epson to Dell, Lexmark, Samsung, Apollo, and Xerox. They vow that their generic cartridges are just as good as the name brand ones but at prices of up to 80% less expensive. To back up the claim, they offer a 100% satisfaction guarantee.
Laser toners are available at www.1-inkjet.com for over 25 brands of printers, including Panasonic, Rioch, Fuji, Pitney Bowes, Sharp, and IBM. All generic toners are brand new and made by a reputable manufacturer to meet or exceed all specifications for OEM's. The store also supplies inkjet cartridges, color and black and white, for your name brand ink jet printer. First select your printer band, and you'll be presented with a list of deeply discounted compatible cartridges. Additionally, Number One Inkjet retails MICR (Magnetic Ink Character Recognition) toner. Magnetic ink enables printed information to be read electronically. You can even purchase thermal transfer ribbons on the website as well. Find cartridges with ribbons as well as refill packs for your thermal transfer cartridges.
Number One Inkjet also serves as the middle man for a pre-paid Jetpack Refill Service. They'll provide you with a Jetpack mailer so that you can safely send your empty, OEM original manufacturer's cartridge to be refilled with ink. As long as your cartridge passes initial testing, you'll receive a refilled cartridge back in the mail in ten to fourteen days. Or, rather than sending your cartridge in to be refilled, you can refill it yourself with one of the store's refill kits.
As its name implies, #1Inkjet concentrates on selling ink, but they also offer a host of Office Supplies, including USB cables, quality photo paper, MP3 players, digital cameras, and wireless keyboards and mice. They promise to add more products in the future, so soon you'll be able to shop for your many office needs.
Ink Cartridges > Coupons > 1-Inkjet.com