Carrot Ink Coupons
Cheap inkjet cartridges doesn't mean low quality when you shop at CarrotInk.com. They provide high-quality inkjet cartridges at discount prices, and you can really save with Carrot Ink coupons, discount codes, promotional sales and online coupon code offers. Browse below for cheap inkjet cartridge deals with promo codes, special promotions and sale offers.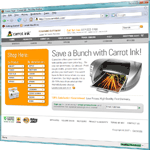 About Carrot Ink
Carrot Ink was founded in 1998 by John and Amy Howard, who were tired of paying the high prices demanded by printer cartridge manufacturers. Why, they thought, should your inkjet cartridges end up costing more than your printer? They discovered a way to provide premium ink at affordable prices, and today they continue to furnish "extraordinary ink that only looks expensive." Today, Carrot Ink continues to sell quality laser toner and inkjet cartridges at savings ranging from 30% to 70% off manufacturers' prices. In addition to these regular cheap prices, they also provide corporate and educational discounts for volume sales.
Find both compatible and remanufactured inkjet cartridges that produce clear, well-defined results: the proof of the quality is in the printout. So print away—drafts, photos, anything you want! You can finally afford it with these cheap prices. Purchase discount inkjet and toner cartridges for a wide range of printers: Brother, Canon, Epson, Dell, HP, Lexmark, Apple, Panasonic, Sharp, Pitney Bowes, Xerox and more. Shop by manufacturer or by product. In addition to affordable inkjet and toner cartridges, CarrotInk.com also offers thermal fax supplies, including fax film, at exceptional values. Fax supplies are available either with a cartridge or as refill rolls. They also sell cost-effective photo and printer paper in letter size, 4X6, and larger formats.
CarrotInk.com prides itself for its customer service. They are willing to chat with you about their products online or by telephone during their extended business hours. Simultaneously receive same-day shipping, superior quality, first-class service, and a satisfaction guarantee. In addition to serving their customers, CarrotInk aspires to serve the environment. The company is committed to helping the environment in two ways. Firstly, they pack your order with biodegradable corn starch pellets instead of all that packaging that just sits around in landfills. Secondly, they collect empty inkjet and laser toner cartridges. You can send them your empty cartridges, and they'll even pay the postage.
Ink Cartridges > Coupons > Carrot Ink