InkPlusToner.com Coupons
Save on inkjet cartridges and laser printer supplies with InkPlusToner coupon codes and special offers. With InkPlusToner.com coupons, you can get an extra discount on already cheap prices on inkjet refill kits, photo paper and laser printer cartridges for brands like Canon, Hewlett Packard, Epson, Brother, Lexmark, Dell, Konica and Xerox.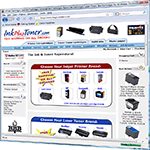 About InkPlusToner
InkPlusToner.com is an inkjet and laser printer supplies superstore offering easy, online access to printer ink cartridges and laser toner cartridges for virtually every brand of printer imaginable, from Apple, Brother, Dell, and IBM to Konica, Minolata, and Xerox. They also carry Samsung, Sanyo, Sharp, EGT, Telekom, Imagen, Tandem, Panasonic, Philips, and Pitney Bowes, to name but a few. If you'd like to save and recycle at the same time, you can purchase a refill kit for your existing Canon, Lexmark, HP, or Epson print cartridge instead of buying an entirely new cartridge. Finally, InkPlusToner retails photo paper for your printer as well.
The Ink Plus Toner website offers free shipping on all ground orders. In addition to name brand inkjet cartridges and toners, they also offer deeply discounted compatible products. Why shop straight from the website of your printer's manufacturer and pay a lot when you can save big on these low-cost compatible cartridges? If you've been told you can void your manufacturer's warranty by using inexpensive compatible cartridges, that's not necessarily true. Look into the Magnusson-Moss Warranty Act of the Federal Trade Commission, which ensures that a manufacturer cannot deny a customer's warranty just because the customer used another vendor's products. So take advantage of fantastic savings on compatible inks and toner, which is also 100% guaranteed. If you are not completely satisfied with your inkjet cartridge, laser toner, refill kit, or ribbon, you can return it within 90 days of purchase for a replacement or a full refund.
Ink Cartridges > Coupons > InkPlusToner.com