All Ink Coupons
Buy printer supplies at cheap prices by shopping at All-Ink.com with these coupon codes, promotional specials and sales discounts. Shop for cheap inkjet cartridges, laser toner, copier toner, fax ribbons, ink refill kits, paper, solid ink and other printer supplies. They even sell credit card paper, POS ribbons and printer memory upgrades. Buy for models from Lexmark, HP, Canon, Dell, Epson, Apple, Brother, Konica, Minolta, Sharp, Xerox and other manufacturers.
All Ink Discount, Coupon or Promotion
Expires
We do not have any offers at this time.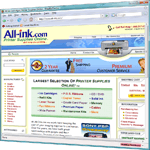 About All-Ink.com
All-ink.com lays claim to the largest selection of printer supplies online. From ink cartridges, laser toner, fax and point of sale ribbons, solid ink, and refill kits, to copier toner, paper, maintenance kits, storage, memory, and cables, All-ink.com clearly has it all. As they say, "If it prints, copies, or faxes, we have supplies for it." The company is committed to more than just sales, however. They also assist students in pursuing their higher education goals by offering scholarships to qualified students who apply via an online application on the www.all-ink.com website.
All-ink.com retails ink, toner, and more for printers, copiers, and fax machines made by all of the top name manufacturers, including Apollo, IBM, Star, Tec, Canon, Lexmark, Epson, Dell, Hewlett Packard, Apple, Konica, Brother, Sharp, Toshiba, Samsung, Panasonic and Xerox. You can find virtually any cable you could possibly need; AllInk.com will help you find the precise cable you desire or even make a custom cable for you! Find cable ties, Cat. 5 & 5e, Cat. 6, Fire Wire, IEEE, parallel printer cables, plotter / laser cables, SATA, Ultra ATA, USB cables, and USB extensions.
If you own a printer, you'll also need paper. That's why AllInk.com carries point-of-sale paper, cash register paper, printer paper for inkjets and lasers, paper for credit card terminals, fax rolls, photo paper, and wide format media. They also have a unique smattering of specialty products, labels, t-shirt transfers, business cards, greeting cards, promotional products, and other paper products. Their high quality papers control ink spread and eliminate the "bulking effect" experienced with most inkjet papers.
If you need additional memory for your desktop, laptop, or notebook computer, you can secure it from all-ink.com. They also sell memory for servers, workstations, digital cameras, and much more. Choose from Rambus RDRAM, DDR RAM, SDRAM, EDO RAM, CompactFlash, SmartMedia, Secure Digital, MultiMedia cards, memory sticks, xD picture cards, USB flash drives, card readers, and more. On a smaller scale, you can purchase and permanently store media on their top quality write-once recordable compact discs and DVDs. These CD-Rs and DVD-Rs provide excellent performance and compatibility.
AllInk works hard to ensure that the cost of your printer supplies is kept low. They are proud of their vast inventory and deep discounts, but they are equally pleased to offer a friendly, knowledgeable staff to meet the needs of their clients, which range from individuals and small businesses to government offices and large corporate accounts. They are so sure you'll be satisfied with their printer products that they'll refund 110% of the price if you're not! Finally, they provide free, priority, same-day shipping on all orders over a certain minimum dollar amount.
Ink Cartridges > Coupons > All-Ink.com